Project Description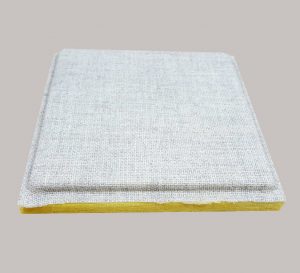 Sound Quality® Ceiling tiles are offered as both a sound absorbing as well as a combination sound absorbing / sound blocking tile.
C-300 Ceiling Tiles have a white fabric facing attached to a 1" or 2" thick rigid fiberglass board and have excellent sound absorption (NRC) ratings.
C-300B Ceiling Tiles take the standard C-300 tile and add a 1# per square foot foil backed vinyl noise to the backside of the tile for high sound absorption (NRC) and high sound blocking (STC) requirements.
Standard size 2' x 2' or 2' x 4'
Custom sizes available
Square or tegular edge
1" or 2" thickness
Signature white fabric facing
Custom fabric facings available
Excellent acoustical values
Offered with a vinyl noise barrier for high STC requirements
FINISHES
Signature white fabric facing
Option for any Guilford of Maine FR701-2100 fabrics
ACOUSTICAL
NRC Rating
1" Thick – .85
2" Thick – 1.15
C-300B Version – STC 26
SUBSTRATE
6-7# PCF rigid fiberglass core
*C-300B adds a vinyl noise barrier
EDGE DETAIL
Square or tegular
WEIGHTS
C-300 Tile .6 lbs / SqFt
C-300B Tile 1.6 lbs / SqFt
MOUNTING OPTIONS
Grid supplied by others