dB Engineering Sound Panels

Knock the Noise out of your Space.
Acoustical Wall Panels by dB Engineering are the solution for areas that require noise reduction and are available in a variety of models for various applications.
Sound Quality Acoustical Ceiling Tile Products are designed to acoustically treat and soundproof interior ceiling spaces within.
Ceiling Absorbers not only offer superior acoustical values but are also lightweight, economical, and easy to install. They are all custom made and are available in a variety of sizes, finishes and colors.
If you need assistance with noise control, sound suppression or vibration control dB Engineering is here to help. Feel free to contact us if you have any questions or need a sample.
These architectural wall panels were installed in a federal courtroom to eliminate the "echoes" due to the hard surfaces of the walls and ceiling. The judge said afterward that the way business was conducted in the courtroom had "changed forever" due to the speech quality.
Architectural Wall Panels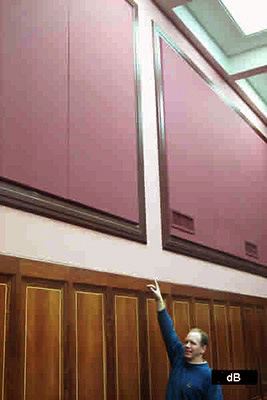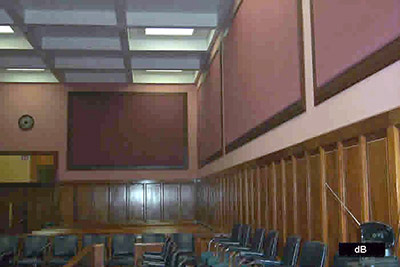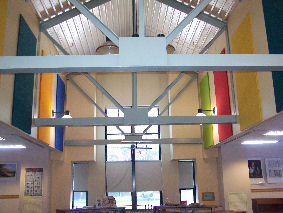 dB Engineering offers a wide variety of products to meet the acoustical needs of virtually any space. Our innovative products include treatments for both walls and ceilings, reflective or absorptive, and can be combined to solve or correct any acoustical problems.
Our products are manufactured to meet the specific requirements of your space. We custom manufacture each of our products for size, thickness and acoustical properties desired. With our totally customized products, we can help you create a special environment that is best suited for your needs. Our high-performance products give you a rich looking environment while reducing distracting noises.